20AWG Hookup Wire Kit - 600V Tinned Stranded Silicone Wire of 6 Different Colors x 7m (23 ft) each
20 Gauge Hook up Stranded Wire Kit: It includes super flexible and high quality assorted colored stranded wires (Black,Red,Yellow,Green,Blue,White)
Tinned copper wire with silicone insulation: Each wire is 23 feet 60-strand wire made of 0.08 mm tinned copper conductor material with silicone insulation.
Bonus Items Included: heatshrink tubes,mini wire stripper tool & colored wire ties included inside
Durable Dispensing Box Included: It helps in assortment and dispensing of the wires whenever they are in use, keeping the wires organized& secured.
Satisfaction Guarantee: Our Hook up wire assortment kit is backed by our manufacturer 30-day money back guarantee and lifetime customer support

See description for more details about the product.
Add to cart now!

Secure checkout with state of the art SSL encryption

Fast delivery to any province in China

Backed by our 30 day money back guarantee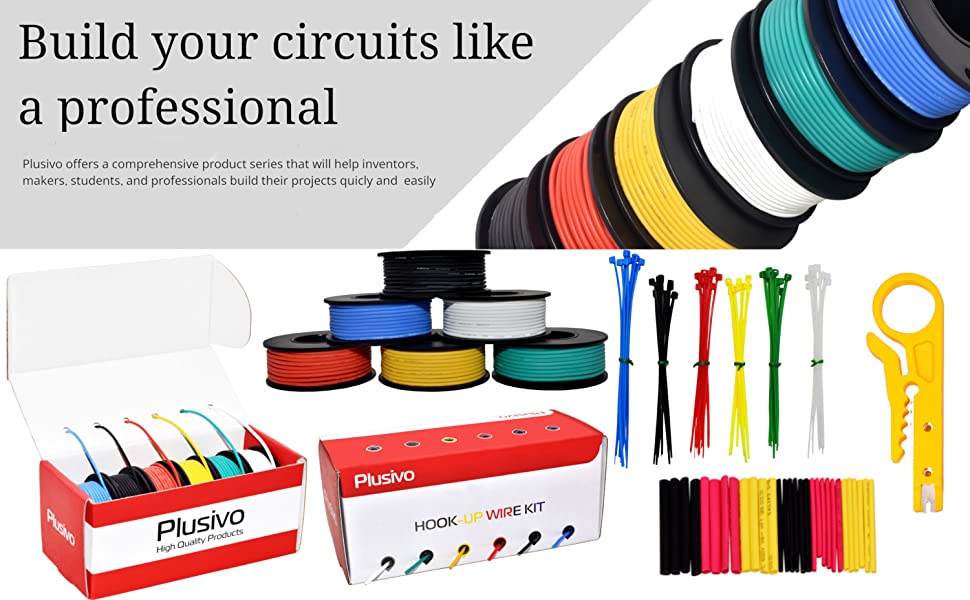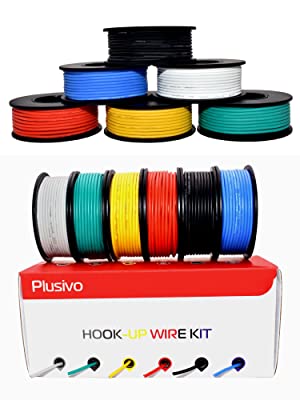 Hook-Up Wire Kit
20 AWG Stranded Core
Stranded Core Hook-up Wires are more flexible than solid core wire of equal size, making them perfect for wiring circuits on frequently moving parts like robot arms.
Kit Includes:
• 6 x hook-up wire rolls (black, white, red, blue, green, yellow)
• 60 x wire ties / 10 per color (black, white, red, blue, green, yellow)
• 1 x heat shrink tube set (black, red, yellow)
• 1 x mini wire stripper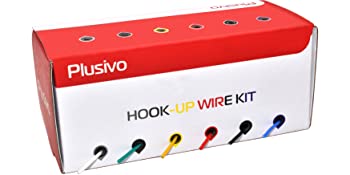 Plusivo Hook-Up Wires are assorted in colors for easy identification and color coding. The wires are contained in a box casing to keep your workspace organized. Items included are mini wire stripper, heat shrink tubes, and wire ties.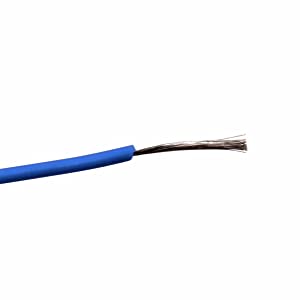 Tinned Copper Core
The benefits of having tinned copper wire include protection against corrosion, ease of soldering, and providing the same conductivity as bare copper.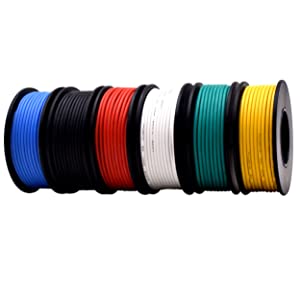 Uniformly Coated with Silicone
The uniform insulation makes the wire easy to strip and cut. The Silicone insulation provides high flexibility, resistance to acids, oils, alkalies, moisture, and fungus, and offers good abrasion resistance.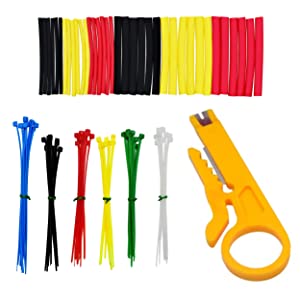 Comes with these Additional Items
The kit includes a set of heat shrink tubes, a mini wire stripper tool, and colored wire ties, which may be used for other everyday projects.
Wire Features:

• 60 Strands x 0.08 mm Tinned Copper
• Soft and Flexible Silicone Insulation
• 600 V Voltage Rating
• 200°C Rating

You'll never want to be without the Plusivo Hook up Assorted Wire Kit!

Don't delay, buy today.
No customer reviews for the moment.